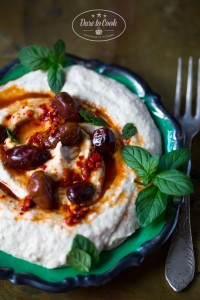 Beautiful, purple eggplants are now the best. I could eat them everyday. Roasted, stuffed, baked are my favorite autumn treat. You can modified this recipe depends on your mood and preferences. You can add some chili, or roasted  with aubergine garlic, it's totally up to you 🙂
INGREDIENTS:
eggplant
2 spoon tahini paste
2 spoon greek yogurt
2 garlic cloves
1 spoon lemon juice
fresh mint
greek olives in chili olive olil
salt
Preheat the oven to 180  degrees  and place an oven rack in the middle. Roast eggplant for 35 minutes until golden brown. Set aside to cool. In food processor combine cooled eggplant, tahini, yogurt, garlic, lemon juice and salt. Serve with greek olives and fresh mint.
Ten post dostępny jest także w języku: Polish