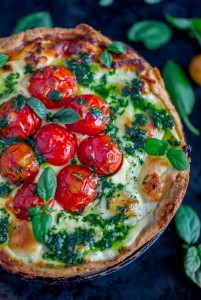 This stunning looking tart I made just after I bought to much cheese 🙂 It's simple and delicious a perfect dinner for summer 🙂
DOUGH:
250 g 

flour

pinch of salt
150 g cold butter
1 egg
80 g grated emilgrana or parmesan cheese
INGREDIENTS:
200 g goat cheese
1 egg
8 cherry tomatoes
1 mozarella
100 g cream
salt
pepper
SALSA VERDE:
1 garlic clove
bunch mint
bunch basil
bunch flat leaves parsley
salt
olive oil
DOUGH: Sift together the flours,  sugar and salt. Cut in the butter, mix together until you get a rough, sandy texture with small chunks of butter throughout. Add cheese, egg and mix, if the dough doesn't come together add some cold water. Refrigerate for 30 minutes.
I used for my 23 cm baking tray  2/3 of the dough, you can bake the rest as well in small molds. Prick the base all over with  fork and chill for 30 minutes. The dough goes into the oven for 15 minutes – until the crust is slightly browned, 180 degrees.
Whisk the egg with cream and some salt and pepper. Spread the cheese all over the crust, in the middle put tomatoes and pour evenly the egg mixture over the tart. Bake for 30 minutes until it's all set and light golden.
Blend herbs with garlic, some olive oil salt and pepper.
Serve warm with salsa and fresh herb to garnish.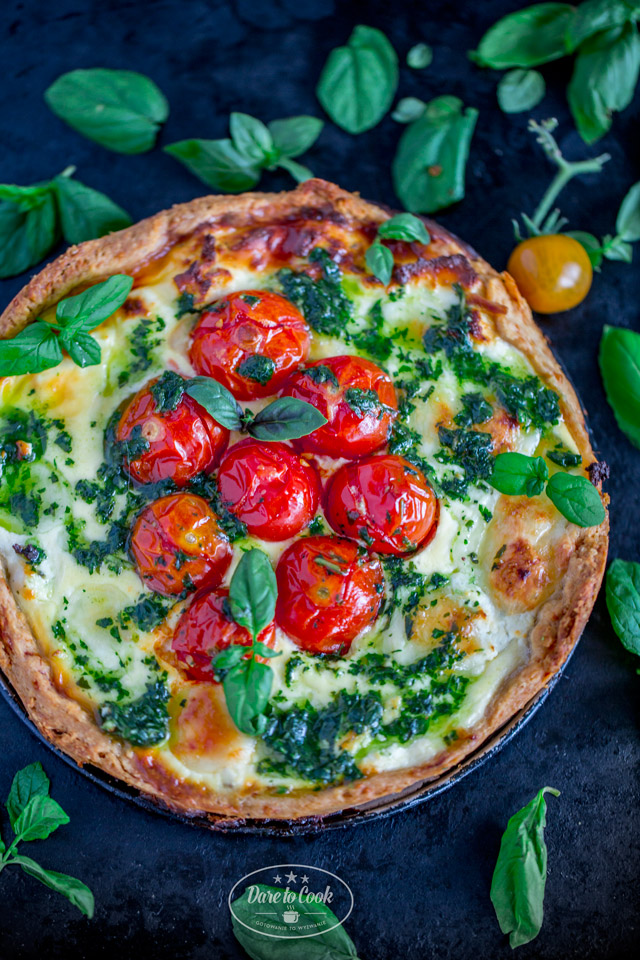 Ten post dostępny jest także w języku: Polish