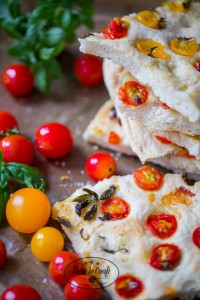 Focaccia is always an excellent idea, especially with cherry tomatoes and fresh herbs. Let the tomato madness begin :-)!!!
INGREDIENTS:
40 g fresh yeast
500 g flower
1 cup lukewarm water
1 spoon sugar
1/2 teaspoon salt
2 spoons olive oil
fresh basil
1/4 kg cherry tomatoes
sea salt
In a bowl dissolve yeast, sugar and spoon of flower in water, put aside for 20 minutes.Into the bowl goes flower, yeast and olive oil use a spoon to mix it together and form a soft dough. Add a little more flour if the dough is too wet, or a splash more water if it's too dry. Put the dough onto a lightly floured work surface and knead for about 10 minutes until you have a soft, smooth, elastic dough. Put the dough aside for about 1, 5 hour. Transfer the dough to the oiled baking tray and stretch it out to fill the tray. Tip the halved cherry tomatoes and basil into the dough, sprinkle with some sea salt and leave in a warm place for about an hour. Bake in the oven for about 30 minutes or until crisp and slightly golden. Serve with olive oil and sea salt.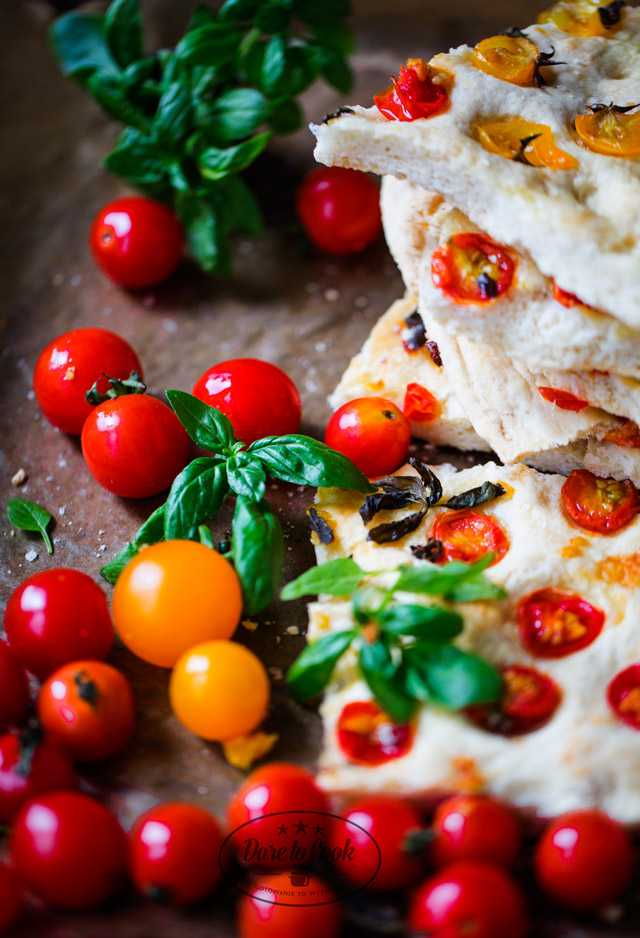 Ten post dostępny jest także w języku: Polish