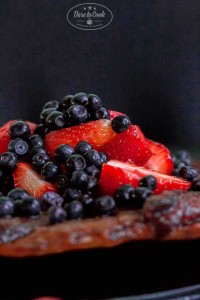 This is a great dessert for summer. Classic tarte tatin is one of my favorite treats . Every time I bake it I'm surprised how delicious it is. It's easy, it's delicious and it's seasonal, let's bake!
DOUGH:
200 g 

flour

pinch of salt
100 g cold butter
1 egg
1 spoon sugar
CARAMEL:
60 g sugar
1 spoon butter
50 ml bourbon
tea spoon lemon juice
FRUITS:
1/2  kg strawberry cut in half's
bunch of seasonal fruits to decorate I used blueberries
DOUGH: Sift together the flours,  sugar and salt. Cut in the butter, mix together until you get a rough, sandy texture with small chunks of butter throughout. Add egg and mix, if the dough doesn't come together add some cold water. Split the dough in two, and put into refrigerator for 30 minutes.
CARAMEL: Melt the sugar and butter in a heavy pan, oven proof pan and cook for a while. When the sugar with butter is darken stir in the strawberries, lemon juice and bourbon. Cook for some more couple minutes. Set aside.
Roll one part of dough on flowered surface till its gets the size a little wider than the pan. Cover the caramel with fruits withe the dough. Put the dough covered dessert into the oven for 30 minutes – until the crust is browned, 180 degrees. Remove the cake from the oven and set it aside for couple minutes, and turn it out for a plate to cool it completely Serve with some extra fresh fruits or ice cream.
Ten post dostępny jest także w języku: Polish