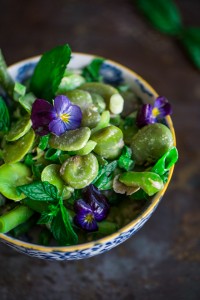 Asparagus and fava bean are the two most expected vegetables by me. I adore fava bean in every dish, mostly I eat it just boiled with a pinch of salt.  Fava beans goes with everything, let's experiment this summer with this delicious veggie.
INGREDIENTS serves 2:
1/2 kg fava bean
1/4 kg green bean
green spicy pepper
2 spring onions (scallions)
fresh mint
DRESSING:
2 spoons tahini paste
lemon juice
olive oil
freshly ground black pepper
salt
1 clove of garlic – grated
Boil the freshly shelled fava beans in a pot of salted water, partially covered, for about 20 minutes, or until the skins can easily be pinched off and bean inside is tender. Drain and peel the beans. Boil the green bean in salted water as well. Mix the veggies with chopped scallions and mint. 
In a medium bowl combine olive oil, tahini paste, lemon juice, garlic, pepper and salt to taste.
Serve mixed vegetable covered with dressing with some additional fresh mint.
Ten post dostępny jest także w języku: Polish