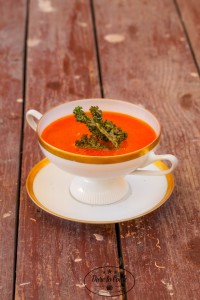 I'm supporting a healthy cooking action Cisowianka. Gotujmy zdrowo-mniej soli. We creating recipes without using salt.  This broth is amazing, I used some smoked fish and plenty of vegetables but salt. I made tomato soup, but you can use this healthy and delicious broth to many other soups.
INGREDIENTS:
2 kg fresh tomatoes
1 spoon butter
lovage
2 carrots
1 parsley
3 skins of smoked fish ex. code, mackerel, salmon
pepper
kale
Put smoked skins and heads into the large pot, and 1,5 l cold water and cook for 20 minutes. Into boiling broth add some lovage, carrots, and parsley, shimmer for 1,5 hour. Strain broth into a clean pot. Discard the veggies. Put butter and tomatoes cut in large chunks into large pot, cook for 30 minutes. Sieve tomatoes into the broth and cook for 15 minutes. Serve with chunks of smoked fish, black pepper, and some kale chips.
Kale chips:
Bake cut kale leaves sprinkled with olive oil in 180 degrees heated oven for 15 minutes, until the edges brown.
Ten post dostępny jest także w języku: Polish